Disposable Plastic Drink Pouch To Go Beverage Bags
Classify:Bubble Tea Shop

5.0 (10 )
Wholesale Disposable Plastic Juice Pouch | Convenient & Trendy
LOKYO Disposable juice pouch bag is the perfect solution for those on the go. Whether you're packing a lunch, going to the gym, or simply need a convenient way to carry your favorite drink, our portable drink bag is a great choice.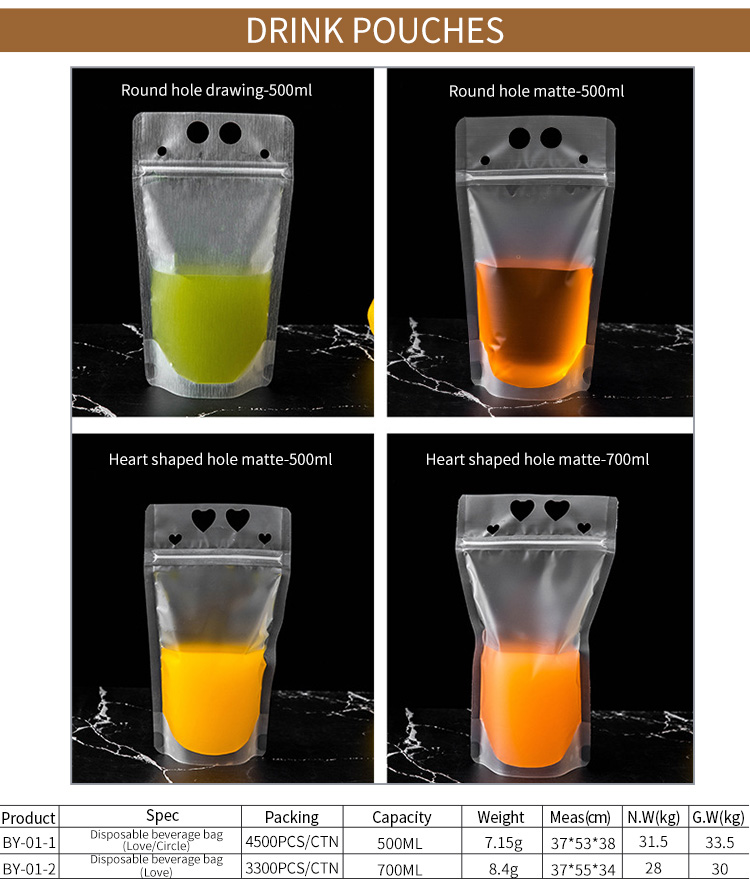 Made from high-quality, food-grade plastic, our plastic drink pouches with straw is safe for use with all types of beverages, including juice, water, sports drinks, and more. The zipper closure ensures that your drink stays securely inside, while the convenient carrying handle makes it easy to take with you wherever you go.
Features of custom drink pouches:
✅Different styles of juice pouch bag to choose from, the enclosed zip ensures that there is no leaking.
✅Convenient to use with 2 small holes to put your straw
✅Great quality brushed style and matte style
✅Food-grade and non-toxic drink bags with round corners for safety. Drinking straws for a pouch with No sharp mouth, safe for children and the elder.
Disposable Plastic pouches for drinks are value packs for drinks, candies, coffee, smoothie, protein shakes, and cocktails. Novel Choice for drink parties, picnics, hiking, and even pubs. Children will be the best replacement for dangerous breakable glassware.