Custom Disposable U-Shaped Plastic Cups
Classify:Business Type

5.0 (10 )
Product Overview
Safe PP material
With tight cover, and flat bottom bump design
Cold and hot drinks can be placed
Customizable patterns and sizes
Color:
Transparency
Premium U-Shaped Platic Cups – Innovative Design for Enhanced Drinking Experience
Made from safe PP materials, this U-Shaped Plastic Cup is often used for serving drinks at events such as parties, picnics, and outdoor gatherings. The U-shape of the cup makes it easy to hold and drink from, and it is also stackable, making it convenient for storage. U-shaped plastic cups come in a variety of sizes, making them a popular choice for both personal and commercial use.
Plus, you don't have to worry about sealing and holding because our U-shaped plastic cups have a tight-fitting lid and flat raised design.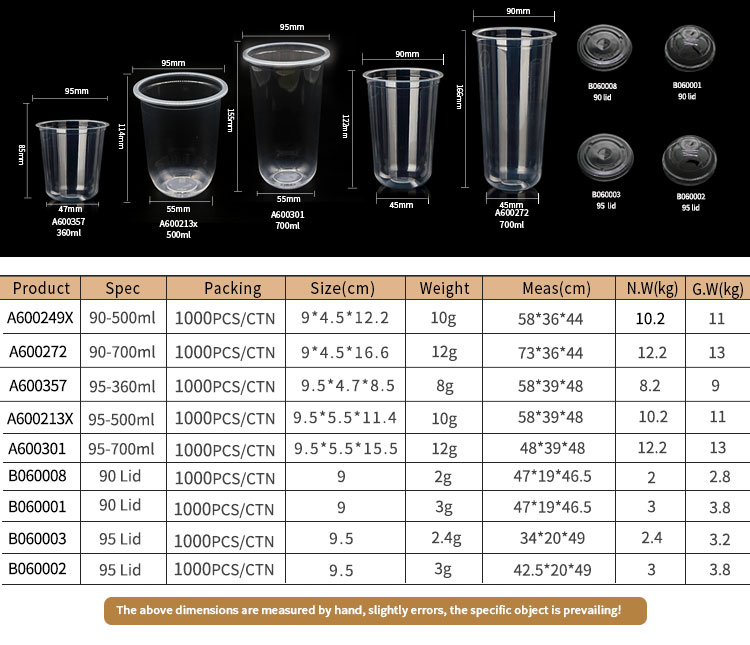 Features of U-Shaped Plastic Cup:
✅U-Shape Design: The unique u-shape design of the cup allows for easy and comfortable grip, making it ideal for both adults and children.
✅Durable Material: The cup is made from high-quality, durable plastic that can withstand daily use and last for a long time.
✅Easy to Clean: The smooth surface of the cup is easy to clean and maintain. This ensures that your beverages always taste fresh and delicious.
✅Customizable Options to Showcase Your Brand
✅Safe PP Materials
Our U-Shaped Plastic Cup will make your cold and hot drinks stand out with its U-Shape, giving your drinks a unique attraction. So why wait? Add the U-Shaped Cup to your drinkware collection today and enjoy your favorite beverages in style and comfort!





5.0
Number of reviews 3
ALL
Comments with pictures





Great buy
I loved the size, easy to use and will buy it again!





Exactly what I was looking for.
These worked great for my wife's boba cups she makes.





Loved it!
It's a little flimsy but still doea the job . The lid is nice no leak. I put my brand logo and it look cute already . Recommend!