Customization PET Juice Bottles Wholesale
Classify:Bubble Tea Shop

5.0 (10 )
Product Overview
The bottle mouth is round and free of burrs
Custom pattern with clear printing
PET material, 500ml and 600ml to choose
Color:
Transparent
PET Juice Bottles Wholesale – Customizable Containers for your Beverage Shop
These disposable PET juice bottles are specifically designed to meet the needs of juice manufacturers who want to differentiate their product on the shelves and enhance their brand image.
Features of Customization PET juice bottles:
✅Customizable Shape and Size: These bottles can be designed and manufactured in various shapes and sizes, depending on the manufacturer's preferences and requirements.
✅Customizable Color: The bottles can be produced in different colors, allowing the juice manufacturer to choose the color that complements their branding.
✅Customizable Labeling: The bottles can be labeled with custom designs, logos, and text using various printing techniques like screen printing, digital printing, or labeling.
✅Our PET juice bottles are made from high-quality materials, ensuring that your products stay fresh and flavorful for longer.
We offer a variety of sizes to suit your needs and can be personalized to match your brand and logo. These PET juice bottles are not only environmentally friendly and fully recyclable but also have excellent sealing properties to ensure your drinks remain fresh and leak-free. Transparent bottles can be paired with straws for drinking and can hold boba milk tea and smoothies.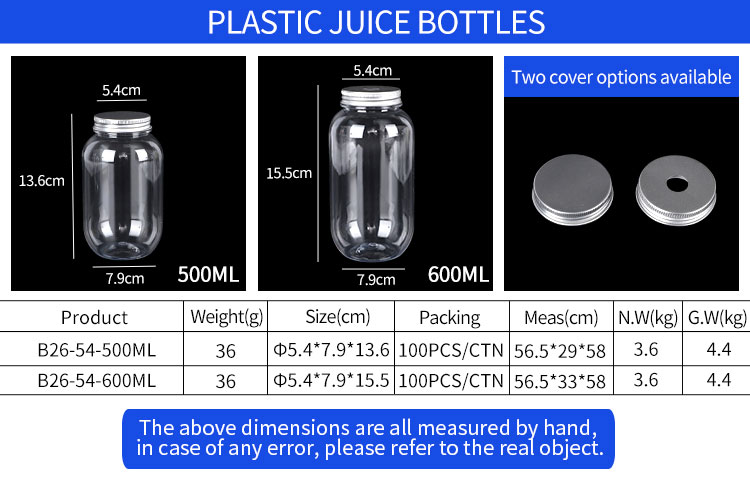 LOKYO PET juice bottles are the perfect solution for storing and serving refreshing beverages. Contact us to customize these convenient and durable bottles for your business activities.





5.0
Number of reviews 1
ALL
Comments with pictures





Nice bottles
I am using these to replace glass pints at my retail store. Customers love them!