Large Compartment Rectangle Plastic Food Container
Classify:Fast Food Restaurant

5.0 (10 )
Product Overview
2 style food container to choose,single compartment one and three compartments
With the tight cover,good sealing performance
Food grade PP material
Rectangular Plastic Containers with Lids for Food | Keep Your Meals Fresh
Our Compartment Rectangle Plastic Food Container is perfect for food storage and takeout. Made of high-quality PP plastic material, it is sturdy and durable, providing a secure and leak-proof seal. The container features a rectangular design with multiple compartments, making it ideal for portion control and keeping different food items separate. It also comes with a clear plastic lid that snaps securely onto the container to keep your food fresh.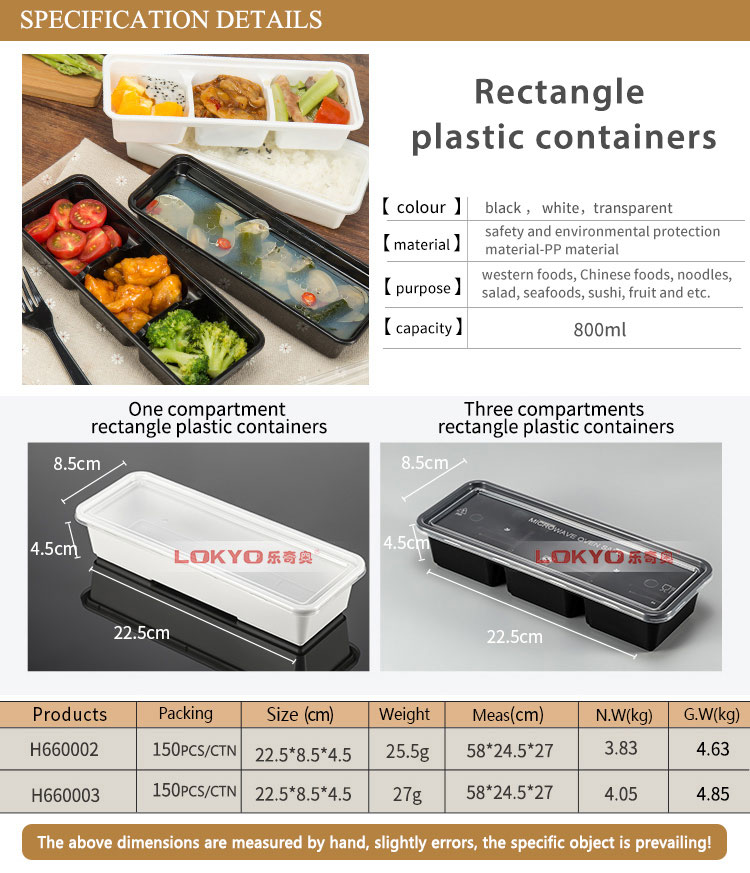 Features of Compartment Rectangle Plastic Food Container:
The Compartment Rectangle Plastic Food Container comes with a range of features that make it a practical and convenient food storage solution:
✅Multiple compartments: The container features a rectangular shape with multiple compartments, allowing you to store different types of food separately.
✅Secure snap-on lid: The container comes with a secure snap-on lid that seals tightly to keep food fresh and prevent spills.
✅Transparent lid: The lid is transparent, allowing you to easily see what's inside without having to open it.
✅Food grade PP material
These large rectangular plastic containers with lids are perfect for restaurants, food delivery services, and meal prep businesses. It is available in various sizes to fit your specific needs.





5.0
Number of reviews 2
ALL
Comments with pictures





Meal prep containers
Great for my fast food restaurant! Good quality and lids fit well.





Good product, sold as expected
Exactly what I wanted but it took too long to arrive. I had to buy extra containers in between orders.