Wholesale Separate Sushi Paper Box Custom Printed
Classify:Sushi Shop

5.0 (10 )
Product Overview
Customised brand logo, printed pattern
Food grade material, which can directly place food
Thick and solid paper
Buckle design, novel and fashionable
Divided sushi boxes and place food neatly
Wholesale Divided Sushi Paper Box Custom Printed
Looking for an easy and convenient way to sushi packaging? Check out our separate sushi paper boxes! Made from high-quality paper, these eco friendly sushi packaging boxes feature compartments to keep your sushi organized and neatly presented. They're perfect for sushi restaurants, catering events, or even at-home sushi parties. Plus, some of our boxes come with a clear plastic lid to keep your sushi fresh and protected.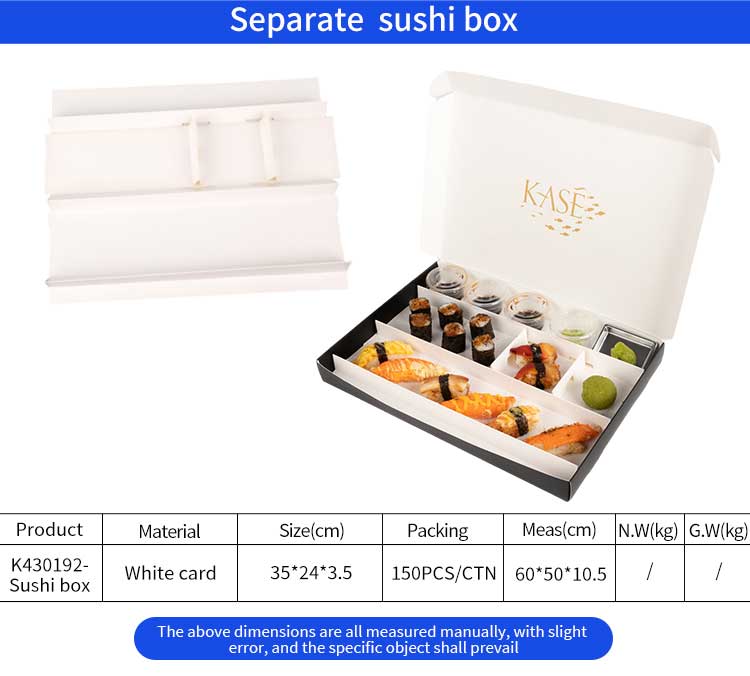 Features of a Separate Sushi Paper Box:
✅Compartmentalized Design: A Separate Sushi Paper Box typically features multiple compartments to separate different types of sushi from one another. This design helps to maintain the integrity and flavor of each type of sushi.
✅Durable Material: A Separate Sushi Paper Box is usually made from sturdy paper or cardboard that can withstand the weight and moisture of sushi.
✅Customizable Size: Depending on the needs of the customer or vendor, Separate Sushi Paper Boxes can be produced in different sizes to accommodate different quantities of sushi.
At LOKYO Food Packaging, our custom sushi paper boxes bring eye-catching presence to the table. The right sushi packaging can make your food look as appetizing as it tastes.
Upgrade now and enjoy the convenience of our divided sushi paper boxes!





5.0
Number of reviews 2
ALL
Comments with pictures





Loved them!
These are adorable, and my customers LOVE them! They are small but perfect for individual size sushi boxes.





Couldn't ask for a better product!
I just ordered another package because of how much I liked them. Great for the price.